Oferta szkół letnich
We kindly invite you to join the EIB Summer School 2023 Information Meeting that will take place on Monday, 27 March 2023, at 4:00 pm CEST (16:00) on Zoom platform.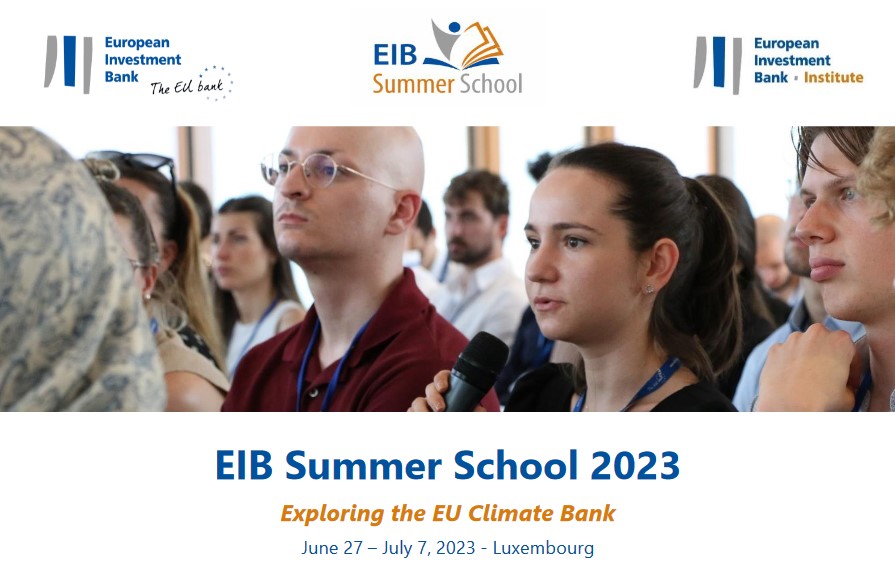 The EIB Summer School 2023 "Exploring the EU Climate Bank" – 27 June – 7 July 2023 – is a fully on-site event in Luxembourg for Master's students (or the 2 last years of 5-year Master's studies) from all academic fields with an interest in sustainability, climate change and environment as well as students with a background in engineering and other hard or life sciences. All participants shall have a substantial understanding of the functioning of European institutions and a basic understanding of finance banking.
There are no attendance fees for the Summer School Board and accommodation of the entire official program (and of the EIB Alumni weekend) are covered by the EIB.
More information and the link to the Zoom meeting are available on our website: http://bwz.uw.edu.pl/2023/03/21/eib-summer-school-2023-exploring-the-eu-climate-bank/
---
"FEBT SUMMER SCHOOL 2023 IN SPLIT" - 26 June - 7 July 2023
Details HERE!


---
Are you interested in enriching your education in a stimulating environment where academic and professional sectors converge around the key expertise of our university? Have you always fancied a visit to Antwerp in summer?
Join us for Antwerp Summer University 2023 and take part in one of our 25 summer schools that are scheduled between June and September. Scroll down or click on the following button for an overview of the topics and disciplines that will be covered.
For the past 14 years, Antwerp Summer and Winter University - an initiative by UAntwerp's International Relation Office - has facilitated the offer of specialised education within the areas of excellence of the University of Antwerp and its many partners. Last edition, Antwerp Summer and Winter University offered 24 programmes across nearly all our faculties, to 586 participants from 73 nationalities!
On our webpage, you can find an overview of all the previous editions of summer and winter schools that have been organised under the umbrella of Antwerp Summer and Winter University over the years.
All programmes offer high-quality education (lectures, visits, workshops).

Participants acquire ECTS credits and micro-credentials upon successful completion.

Target groups are different for each programme (BA/MA students, PhD or postdoc researchers and/or professionals).

Scholarships and reduced fees are available for various programmes.

Social activities are organised during evenings and weekends: rooftop yoga, boardgame nights, port cruises, ...

98% of last year's participants would recommend Antwerp Summer and Winter University to others.
Antwerp Summer and Winter University
Gratiekapelstraat 10, 2000 Antwerpen
---
I.S.E.O. SUMMER SCHOOL 2023
"The World After. Challenges ahead for the Global Economy"
3-10 June 2023
In presence (Iseo, Italy)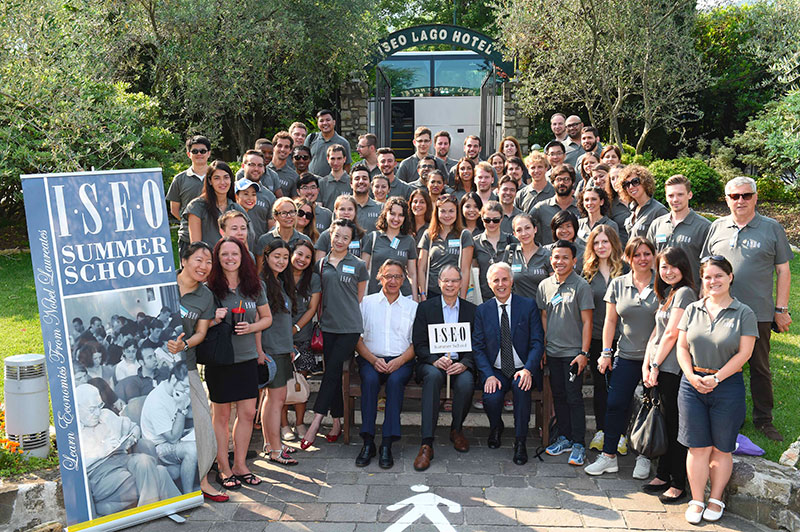 Speakers:
* David CARD, Nobel Prize in Economics 2021
* Michael SPENCE, Nobel Prize in Economics 2001
* Sergei GURIEV, Sciences Po
* Ekaterina ZHURAVSKAYA, Paris School of Economics
* Valentina BOSETTI, Bocconi University
* Phoebe KOUNDOURI, Athens University of Economics & Business
* Further international economists
CONTENTS
The I.S.E.O. Summer School in Economics is an international summer course reserved to graduate students (Masters and PhD) notably in Economics, teaching assistants, researchers and young professionals.
The 19th edition will be focused on "The World After. Challenges ahead for the Global Economy" will investigate the growing array of challenges – hiding both opportunities and threats – that world's economies are facing and will face after epochal events such as the pandemic and the geopolitical tensions due to the conflict in Ukraine. The effects of these factors on growth, global inflation, sustainable development, climate change, inequalities, labour markets, digital technologies & Ai, and even on rise of populism are just some of the topics which will be covered during the intensive one week course.
Conducted entirely in English, lectures at the I.S.E.O. Summer School are all made of a first part of straight talk by the speaker, followed by a second part of Q&A with the participants.
The 19th edition of the course takes place fully in presence.
"YOUR LECTURE": PRESENT YOUR PAPER
The I.S.E.O. Institute will give few participants the chance to present their paper in front of the whole group of students and, possibly, of some speakers. Papers will be discussed during "Your Lecture" sessions.
APPLICATION
The application form can be found on the Istituto I.S.E.O website. Deadline to apply is the 28th of April 2023, although early application is highly recommended as places are limited. Summer School admissions work on a rolling basis.
FEE AND SCHOLARSHIPS
The I.S.E.O. Summer School 2023 fee amounts to 2.800 Euro: however, we award talented students partial scholarships amounting to 1.600 Euro (each), so that the fee can be reduced to 1.200 Euro.
Full scholarships are not available.
Fees includes:
* participation to all the lectures organized during the Summer School;
* speakers' slides and presentations;
* attendance certificate (hard copy);
* 7 nights' accommodation in twin rooms at the 4 star Iseolago hotel (3-10 June 2023) with free access to swimming pools and sport facilities;
* 7 days full board treatment (breakfasts, lunches and dinners included) at the hotel and occasionally also in some other typical Italian restaurants and pizzerias;
* participation to the gala dinner with speakers, sponsors and local institutions;
* participation to leisure time activities (wine tasting, kayak, guided tours)
* participation to local trips;
* local transportation within the area.

INFO & CONTACT
The I.S.E.O. Summer School is organized by the I.S.E.O. Institute, a non-profit cultural association chaired by prof. Robert Solow (Nobel Laureate in Economics 1987) and founded in 1998 by prof. Franco Modigliani (Nobel Laureate in Economics 1985). The goal of the association is that of promoting conferences, debates and Summer Schools focused on international Economics.
For further info summerschool@istiseo.org
---
---
Summer courses in global health, Copenhagen, August 2023

University of Copenhagen's School of Global Health offers 5 popular cross-disciplinary summer courses in global health. Choose between Creating Healthy Cities, Global Health Case Challenge on Infodemics w/ WHO Europe, One Health, Global Health Challenges, or International Health. All courses are held in August 2023, are in English and between 2,5 – 5 ECTS. Application deadline is 1 April. Read more and apply here: https://globalhealth.ku.dk/studies/summer-courses/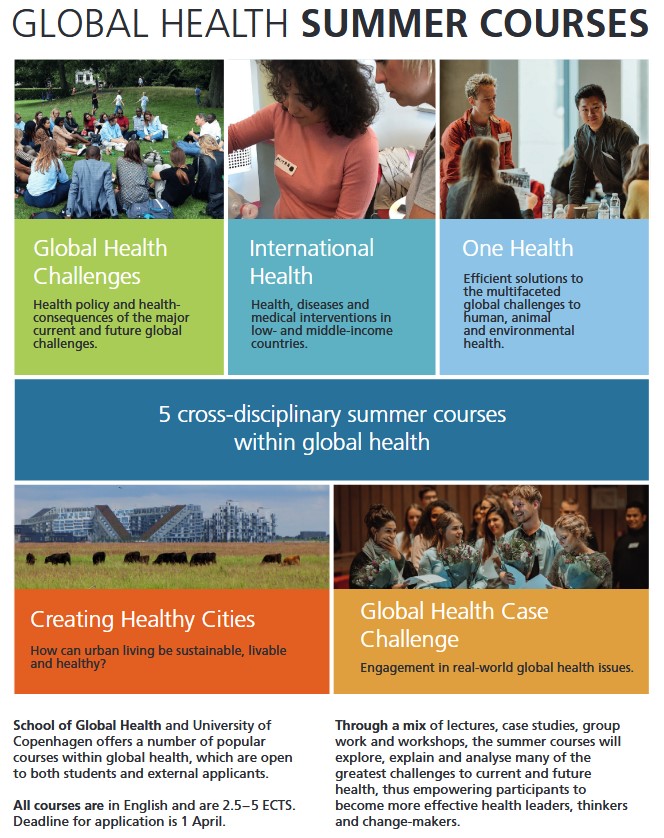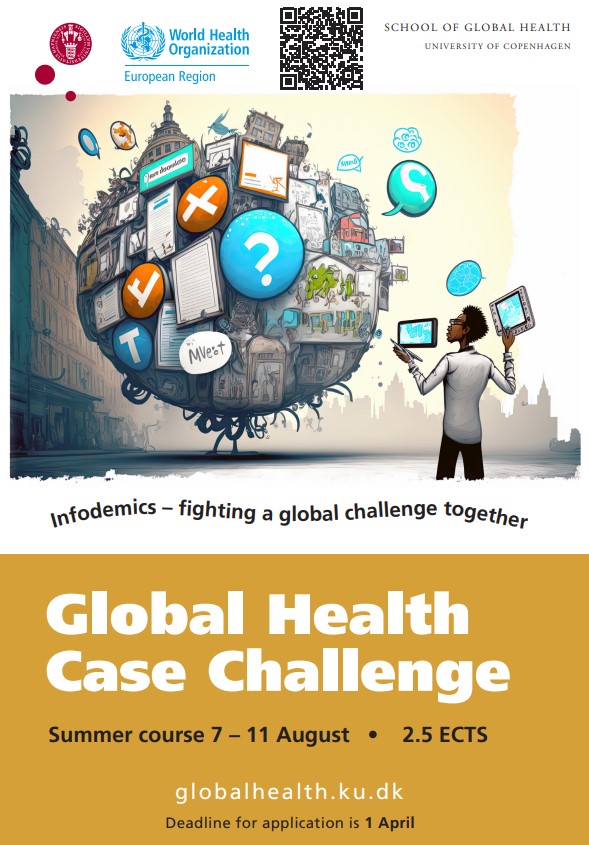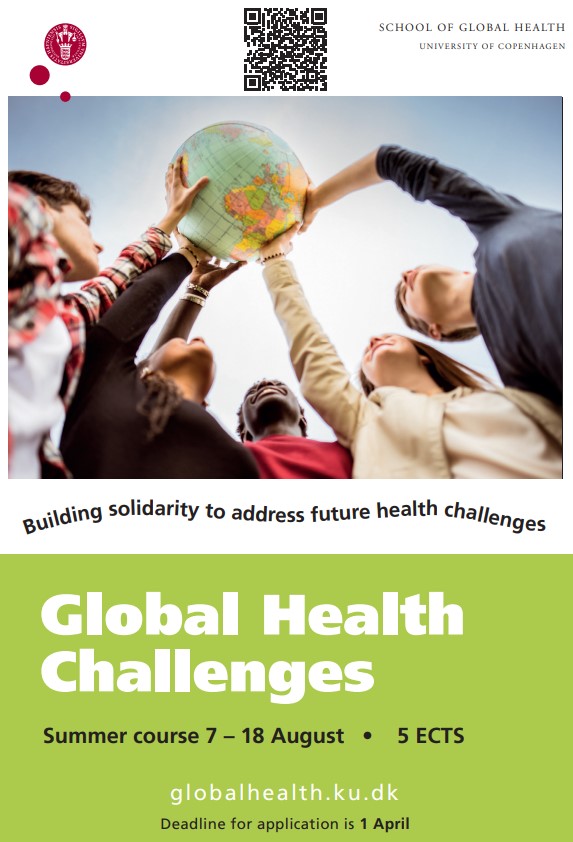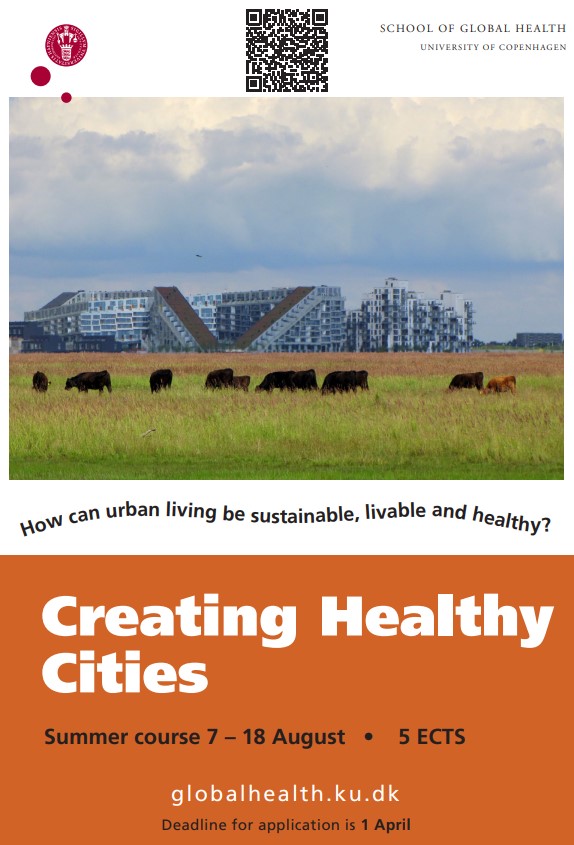 Twitter: https://twitter.com/KU_GlobalHealth/status/1618940330874912770
Facebook: https://www.facebook.com/GlobalHealthUCPH/videos/843411516760637
LinkedIn: https://www.linkedin.com/posts/school-of-global-health_global-health-summer-courses-in-copenhagen-activity-7024704938366652416-N-X0?utm_source=share&utm_medium=member_desktop
---
Summer School 'Europe Inside Out'

The application period for our interdisciplinary Summer School Europe Inside out is open! The next edition of Europe Inside Out will take place from Monday 3 July till Friday 14 July 2023 and targets graduate (Master's) students with an interest in Europe. Undergraduate (Bachelor's) students in their final year of study are also welcome to apply.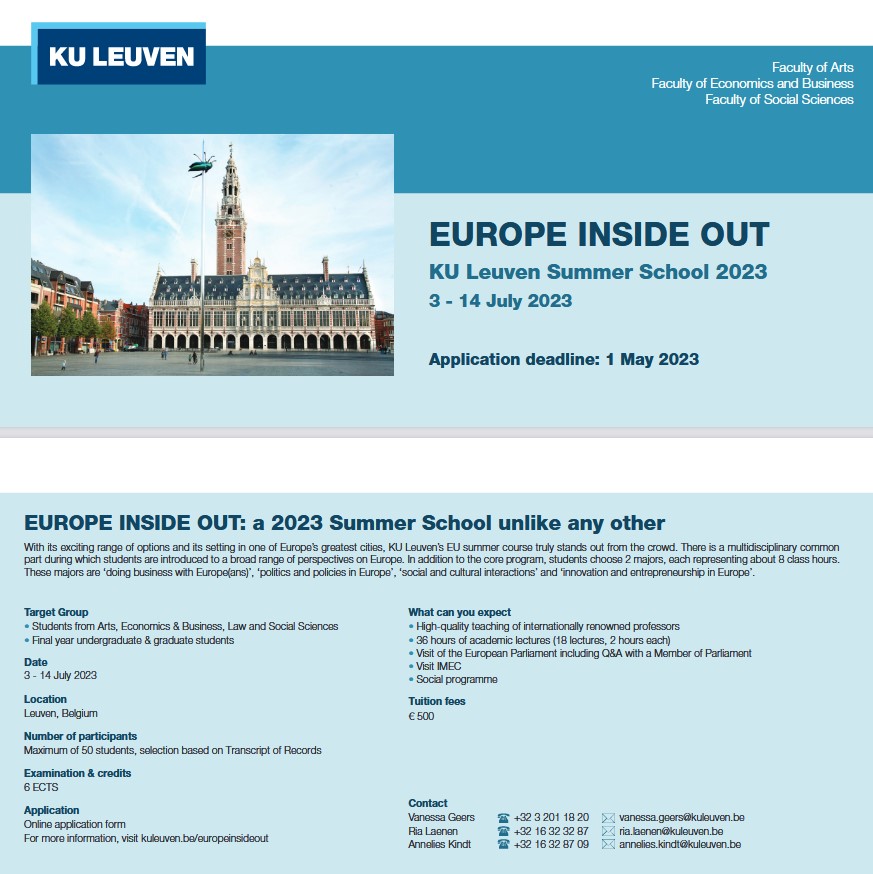 During this 10-day course jointly offered by the Faculties of Economics & Business, Arts and Social Sciences students combine two majors, chosen from a list of four; Doing Business with Europe(ans); Policies and Politics in the EU; Entrepreneurship and Innovation in Europe and Social and Cultural Interactions. The course includes visits to Brussels and Antwerp.
Participants will work in multinational, multidisciplinary teams to identify, elaborate on and formulate a possible strategy to deal with the challenges in Europe. Students present a case study on the final day of the summer school. Upon successful completion of the course, participants will be awarded with a certificate of 6 ECTS.
Students from partner institutions will be able to participate at a reduced tuition fee of €500. Accommodation is not included, but can be booked individually by the students themselves. KU Leuven recommends to stay at the
Irish College
, which is within walking distance to the summer school venue. Twin/single rooms have been prebooked, as most hotel rooms will be fully booked due to the
music festival Werchter
.