Your Path to Acca Membership
How does ACCA membership boost your professional career?
ACCA members are an international group of undisputed experts in the fields of finance, accounting, and management. The ACCA Association guarantees that its members are specialists who represent the highest standards of education, acquired qualifications, professional skills, and business ethics.
Every fifth ACCA member holds a top management position (as CEO, CFO, Financial Director) in companies around the world. ACCA members undertake the most important business decisions with competence and assurance which they have gained in terms of substantive and practical ACCA qualifications.
It is a unique networking community of over 700,000 people around the world, who continually share their knowledge and experience. It is a community for whom the continued development of members and their work environments are central; it follows the global trends in business and finance and is prepared for upcoming changes.
The median monthly earnings of ACCA members are 19,500 PLN gross - according to the Goldman Recruitment Salary Survey in 2018.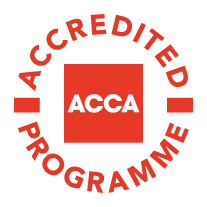 ACCA membership is at your fingertips. Study an ACCA Accredited Programme at the Faculty of Economic Sciences at the University of Warsaw and reach for more!
The way forward to obtaining ACCA qualification:
After obtaining the ACCA Advanced Diploma in Accounting and Business:
you pass the exams required for ACCA qualification: those missing from the Applied Skills level and 4 from the Strategic Professional level:
you complete the Ethics and Professional Skills Module online training course;
you confirm that you have at least three years of professional experience in finance.
More information is available at: https://www.accaglobal.com/gb/en/student/practical-experience.html
you become a member of ACCA
See the video from the Ceremonial Gala welcoming new members to the ACCA organisation.
Meet our members and their paths to ACCA - https://www.accapolska.pl/39850-moja-droga-do-acca